[url="http://www.quarrelsandquills.com/"]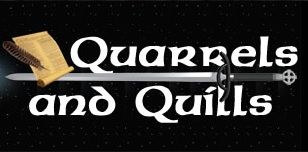 [/url]
Quarrels and Quills was founded in 2004 and we are still going strong. We might be a smaller community but we have a lot to offer and would love for you to help us grow.
We are a PG-13 friendly community. Our members understand that real life comes first. You will never be bullied for posts here.
We are a multi-genre forum, many types of stories are welcome. There are no word limits or sentence requirements here.
At Quarrels and Quills, we welcome everyone. From newbies who want to get their first try at Roleplaying to experienced veterans wanting to find a new Roleplaying home.
Come visit us at:
[url="http://www.quarrelsandquills.com/"]www.quarrelsandquills.com[/url]